Disinfectant Fogging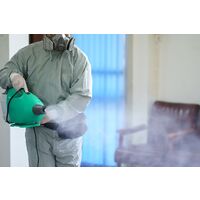 Disinfectant Fogging is a highly effective and efficient method for disinfecting large and hard to reach areas.
Fogging works by generating a fog mist of ultra low volume liquid droplets in the air. The droplets then fall on surfaces.
When used with correct anti-microbial disinfectant products, these droplets eliminate viruses, bacteria and fungi that can cause disease in people and animals.
HOW IT CONTAINS THE SPREAD OF GERMS
We use an Australian-made, hospital grade disinfectant.
"Physical kill" of 99.9999% germs, rupturing pathogen cell walls, preventing mutation and development of superbugs.
Forms an anti-microbial barrier that bonds to surfaces for long-lasting protection from harmful bacteria, much longer than generic disinfectants

Efficacy tested against the following:
E.Coli, Salmonella, VRE for 28 days
Norovirus for 14 days
Murine Hepatitis Virus (MHV)
BioProtect disinfectant is non-toxic. After application, all surfaces are safe to the human touch.
Contain no ammonia, chlorine, or phosphate
Has been independently tested on various surfaces including
| | | | | | |
| --- | --- | --- | --- | --- | --- |
| Stainless steel | PVC plastic | Carpet | Wood | Aluminium | Linoleum |
After application, normal ongoing cleaning practices will not disrupt the anti-microbial coating for up to 28 days.
​
OUR QUICK & SAFE PROCESS
Quote & Final Price
An initial estimate of the price can be provided using Google Earth to estimate the square metre measurements of your facility.

The final price is accurately calculated using a digital measuring device to measure each room space that is to be fogged on the day.

This information determines the fogging product and time requirements needed to cover the area as well as the accurate price per room/building.
Service
We provide our customers with a Safe Work Method Statement outlining the fogging process.

We also perform an ATP metered surface contaminant test on two surfaces and record the measurement prior to commencement.

We then apply the disinfectant using our fogging techniques.

Each area is allowed 30 minutes to dry.

A final ATP metered contaminant test is conducted and the results recorded for reporting.

We supply two pre and two post swab tests per customer job.
Results
We supply a report to our customers that includes
The total square metre measurements of the areas fogged

Pre and post swab test results

A video and photos of the service being carried out for the customer's own promotional purposes.
After-hours service available Ongoing monthly service plans